In the Anatomically Correct Certification, you'll learn:
The anatomy and physiology of key body parts
The major things that can go wrong with them
How to deal with the major things going wrong
How to handle the questions your clients will bring to you about these body parts and injuries
In each hour's worth of class, you get a week's worth (or more!) of research distilled into the info that will best serve you, your clients, and your curious mind.
After taking this class, you'll:
Be a better teacher. Period.
Your clients will be happier and healthier.
Your level of confidence will be through the roof.
Your ability to address people's pain will be unparalleled.
You'll be known as that one teacher who really can offer adjustments according to each person's individual somatic limitations.
You'll retain more clients because they'll get better results from working with you.
You'll feel like a more competent teacher overall-- and potential clients will see that competence and competence as well.
Start now.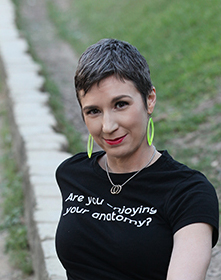 I'm your friendly neighborhood movement hacker and anatomy geek.I've been teaching movement and biomechanics to hundreds of students all over the world for almost 30 years. I'm a Registered Somatic Movement Therapist and Educator (RSMT/E), a Dynamic Embodiment Practitioner (DEP), plus I'm certified as a personal trainer with NASM (NASM-CPT) and a Pilates teacher with the Kane School of Core Integration.  I've taught anatomy to Pilates teachers, dance teachers, yoga teachers, and others both as part of teacher trainings and as continuing education.
This alphabet soup is all to say that I'm seriously into anatomy and have spent a ton of time studying how the body works. (And not nearly as much time as I'd like in cadaver labs!) I am super excited about anatomy and I want to get YOU super excited about how well the body fits together and how it all works as one. If that sounds good to you, join me on this journey, and we'll enjoy our anatomy together. In a non-creepy way.